Are you ready to take on a vehicle that is backed by a legacy of over 80 years? That number speaks about more than longevity, it reveals successful, consistent innovation, continued customer satisfaction, widespread trust and respect, and most of all, durability. When you choose a Toyota, you find yourself driving a tenacious and determined machine that will not give up on you under any circumstances and will see you through thick and thin. More than a friend and a servant, your Toyota will be a dedicated partner to you for many years to come.
Where can you find such an impressive lineup of vehicles? The best place to start your search is at the most amazing Toyota dealership near Nepean - at Myers Barrhaven Toyota. Our lot is brimming with the most amazing new and used Toyota models. From compact hatchbacks through regal sedans and into sporty SUVs, we have the full Toyota lineup and we're ready to impress you with our vehicles. We're there for you even after you make the purchase because we offer Toyota service near Nepean. We'll keep your vehicle in great shape and, if you ever need it, we're the best place for Toyota parts near Nepean too! Don't take our word for it, drop in and find a Toyota you'll love!
Part of the Myers Auto Group
Receive access to greater inventories and volume pricing.
Express Service
If you've got 30 minutes, you've got time for an oil change at Myers!
100% Satisfaction
We make it our top priority to give you complete customer satisfaction.
Why Choose Myers Barrhaven Toyota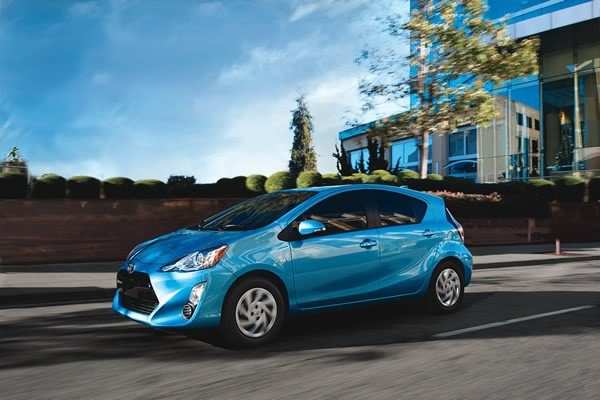 Why Should You Choose a Toyota?
When you choose a Toyota, you know that you will get an efficient design that will cut down your fuel costs, the latest engineering to make your driving more comfortable and effortless, and the most advanced technology to both entertain you during the ride and protect you from unforeseen circumstances. You're guaranteed a vehicle that will do its best to impress you every day. With so many advantages, the real question is, how can you consider driving something other than a Toyota? Visit our Toyota dealership near Nepean today!
A Versatile Range of Vehicles near Nepean
Have you ever considered the full lineup of Toyota vehicles? There are fast, compact, and extremely efficient cars designed to maneuver through narrow city streets with ease. There are large sedans that convey the comfort and spaciousness of beautiful suburbia. There are even sharp, sporty SUVs that are happy regardless of the road conditions under their wheels. With so many choices and such a broad range, it's impossible to leave empty-handed. Find yours with the Toyota dealership that promises the best at Myers Barrhaven Toyota.
Toyota dealership That Promises the Best Models
From the most compact to the most spacious, from the most efficient to the most luxurious, we're ready to match you with the Toyota of your dreams. Discover the boisterous spirit of the Toyota RAV4, and the strict practicality of the Toyota Corolla. Conquer new heights behind the wheel of a Toyota Highlander or cruise the busy city streets in a Toyota Camry. However you want to drive, we have the Toyota you're looking for on our lot at Myers Barrhaven Toyota near Nepean.
Forget to Fret About Financing
You'll be happy to know that you've found the best Toyota dealership near Nepean. We're all about finding what you want, making sure it's what you need and doing all the heavy lifting throughout the process. Whether you're after a Toyota Camry or a Toyota Tacoma, we can help you finance the Toyota that will strike your fancy. We know your budget may be tight, and that's why on our lot you can choose a new or used Toyota near Nepean. Discover your driving possibilities at Myers Barrhaven Toyota.
At Myers Barrhaven Toyota, we make it our number one priority to give you complete satisfaction each and every time you visit our dealership. As part of the Myers Automotive Group, we bring you access to a bigger selection, volume pricing, and the peace of mind that we are backed by a reputable company that's served Ottawa and the surrounding communities for over 75 years. Our friendly and energetic staff are excited to help you find the perfect Toyota vehicle for you and are standing by ready to answer any questions that you might have. We are committed to serving you better, so if there's anything we can do to improve your experience, please don't hesitate to let us know. We are constantly evolving to bring you the best possible customer service. Visit us today at 4123 Strandherd Dr in Ottawa, ON, or call 613-823-8088.
The service department at Barrhaven Toyota go above and beyond. I have been bringing my vehicles here for years and consistently have had a great experience. The entire staff are helpful, knowledgeable, friendly & efficient. They truly are customer service professionals and always make me feel like a valued customer. Thank you for your AMAZING service.
Lisa G.
My wife and I just bought a 2018 RAV4 with the upgrade package from Myers. Our sales person was Erin. She was amazing. And Asad, our finance specialist was amazing as well. They both went above and beyond. Best service I've ever had at a dealership. Will definitely continue to buy here.
Mike Y.
We dealt with Tyler Buchanan and had a great experience. We didn't feel any pressure at all, and he was very good at explaining the financial details (our trade value, new purchase, financing, etc.). He helped us find the perfect vehicle that was best for our family. The dealership itself is nice, new and bright. The selection of vehicles is impressive. But Tyler made the whole process easy and stress free. We will be back for our next car!
Bryan S.