Barrhaven Toyota By Myers Automotive Group
We offer the best selection in Barrhaven of tires and rims from brands you trust like Michelin, BFGoodrich, Pirelli, Goodyear and more!
Tires and rims for EVERY budget because road safety is important to us!
We service all makes and models of cars, trucks, SUVs and Crossovers so we stock tires that fit a variety of vehicles, not just the Toyota vehicles we sell new.

Wheel Alignment: Why It's Important
All Season vs Winter Tires
Tread Depths: How To Measure
Check the tread wear with one of the three methods:
With the quarter test
With a tread depth gauge
With a tread depth gauge
1. Put the edge of the coin into the tread, with the Queen going in head first.
2. If the top of the Queen's head is covered by tread, that's good.If the top of her head is entirely visible, it's time to replace the tire.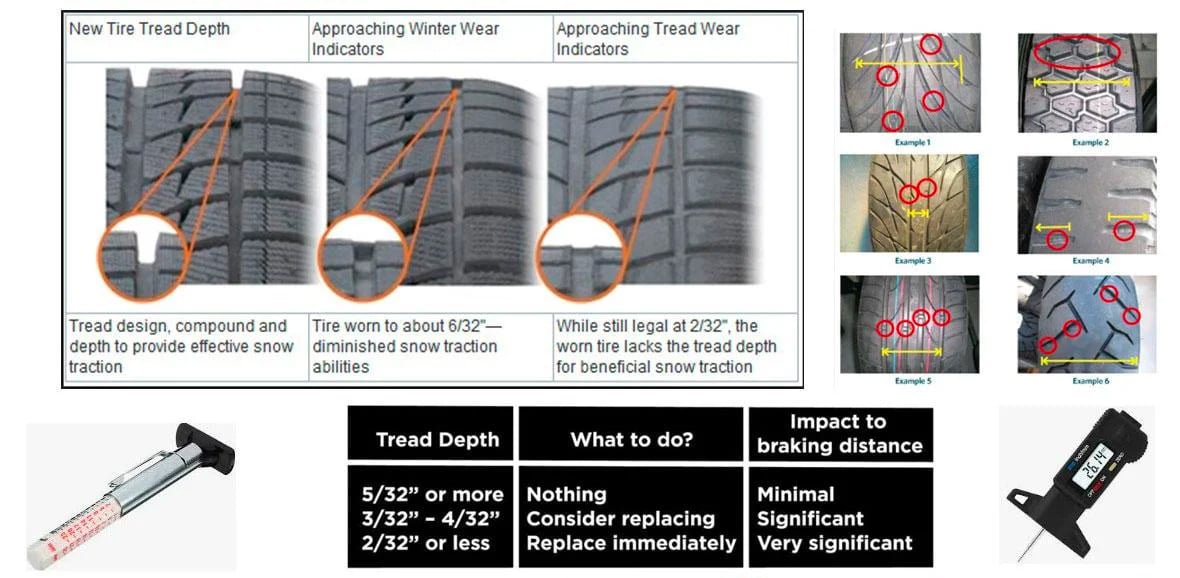 Different Kinds of Tread Pattern
How Long Do Tires Last In Storage
Tire Storage Program
Myers Barrhaven Toyota stores tires! We offer a convenient program that is designed to take the time and effort out of your seasonal tire storage routine. Bring your vehicle in to our Service Department at and our vehicle technicians will install your current tires and/or rims and conveniently store all your off season tires.
If you need to buy new Summer, Winter, or all season tires, you will receive complementary tire storage for the first season.
Why store your tires with us? We offer a secure tire storage facility that saves you time and space when coming in to have your tires changes each season. To find out more, call our Service Consultants at (613) 823-8088 or schedule your next service appointment online.
We will meet or BEAT any competitor's written quote on the same make & brand of tires.
Different Kinds of Tire Wear
Reasons to Change Your All-Season Tires
The air our tires encounter at highway speeds can easily be compressed and moved out of the way with relative ease. However, the same isn't true of liquids. When water collects on the road surface during rainstorms, the water depth, vehicle speed and vehicle weight, as well as the tires' tread designs and tread depths collectively determine when and if the tires will be forced to hydroplane and how quickly they can stop a vehicle.
Design elements that impact wet grip:Groove ratio: The more/larger grooves a tire has, the better the tire pumps out water.
• Shape and layout: The shape of the tread patterns (symmetrical, directional, and asymmetrical) contributes to how quickly water is drained.
• Sipes: These are thin slits in the rubber surface of the tread. They improve traction in wet or icy conditions. Acting like windshield wipers, sipes help the edges and grooves of a tire to drain away water.The surface cracks that occasionally appear have been called many things: Weather Checking, Weather Cracking or Ozone Cracking. These small cracks typically develop in the sidewalls or at the base of the tread grooves. Depending on their severity, they may be cosmetic in nature if they don't extend past the rubber's outer surface, or may be a reason to replace the tire if they reach deep into the rubber.
Tire Pressure, Why It's Important
When To Change Your Tires
Stopping Distance
Types Of Tires
Types Of Tires
There are a large variety of tires available for purchase, each type designed for a specific purpose. Tires are built to respond to different types of weather, driving habits, and size of many kinds of vehicles.
Summer Tires
Designed primarily for dry and some wet driving, summer tires are not built to perform well on snow and ice, or in cold temperatures. Summer tires are designed for hotter weather, providing maximum traction and resilience on the road. Summer tire tread design ranges from orbital grooves, to complex directional patterns, promoting various levels of handling in summer driving conditions. Not sure which summer tire is right for your vehicle? Consider the following:
For most vehicles, the original tire size is a good guide in choosing new summer tires. However, you should take into account that the larger and wider the tire, the increased likelihood of hydroplaning. To help prevent this, choose a summer tire with directional tread design.
Winter Tires
With the volume of vehicles equipped with all season tires, many drivers are unaware of the benefits of winter tires. Winter tires are designed to provide effective traction in difficult winter conditions like snow, ice and sleet as they feature a combination of specialized tread design and compounds that provide more effective traction in Canada's difficult winter conditions.
Selecting the right winter tires for your vehicle should be based on your driving style and purpose of your vehicle. Having the right winter tires on your vehicle will offer optimal control and traction, while helping to maintain the vehicle's fuel-efficiency.
All Season Tires
Perhaps the most economical type of tire is the "all-season" tire, because it is designed for year round use. All-season tires feature a blend of technologies that make use of different compounds and detailed tread configurations, designed for most driving conditions like snow, rain, heat, cold etc. It's the "almost" perfect tire because it offers a smooth, quiet ride, with exceptional handling in many conditions.
All season performance does not mean best performance, however. The trade-off is a loss of traction and compound stiffening anywhere below 7 degrees Celsius (44.6 F). Also, while all-season tires offer greater highway ride comfort, they are not as effective on snow as dedicated winter tires.
All-season tires come in two classes: Passenger Tires and Touring Tires. Passenger Tires feature a smoother ride and longer tread-life while Touring Tires offer low noise and enhanced handling characteristics.
Tire Storage Now Available In Barrhaven!
At Barrhaven Toyota by Myers Automotive Group we know that bringing in 4 tires to the service centre can be a hassle. Tires are big, heavy, and may not fit easily into your vehicle twice a year when you need to swap your tires to winter, summer or all seasons. We offer tire storage to help make regular vehicle servicing convenient!
Simply bring your tires to our location when bringing your vehicle in for its tire change and we will store your tires safely and securely for a nominal fee! Save space in your basement, garage or shed and take advantage of easy tire storage in Barrhaven, close to Riverside South, Kanata and Kemptville!
We Know Winter Tires
When we sell winter tires, be assured that you are getting what Transport Canada acknowledges as designed specifically for use in severe snow conditions, displaying the Alpine Symbol below.
Tires displaying this symbol are specially tested to meet industry requirements for what can be considered a winter tire.